Our Top 10 Destination Recommendations
Here are our favorite things to see and do on Cape Cod.
Some are well known, and some like the first entry are well kept secrets. Have a look around as we have included photos, videos, information and links.
They are in no particular order.  There are many more-visit our Blog – Your Cape Cod Guide for more suggestions.
This video says that the Cape Cod Rail Trail is 22 miles long from Dennis to Provincetown.  That was accurate, but now the Town of Yarmouth is the new beginning spot. Starting area parking lot is 3 miles from our house. Its  open all the way..  The Dennis starting point is on Rte 134 about 8 miles from our properties. 
There are places to rent bikes if you don't want to bring your own. Visit your Cape Cod Guide to find out where to rent bikes.
The Bike Zone is about 3 miles from our rental and near the new Yarmouth Trailhead on Station Avenue.
Just imagine hiking up this fantastic dune. The dunes you will see and hike here are one of Cape Cod's  geographical wonders.  This first picture is  the first huge sand dunes you will hike up and there are more after that. A 40 minute strenuous hike to the Atlantic ocean.   Be sure to turn around halfway there and look behind you.  When you get to the end you will be on a beach which you may even have all to yourself.  See the picture below.  We have seen seals and whales out here at times.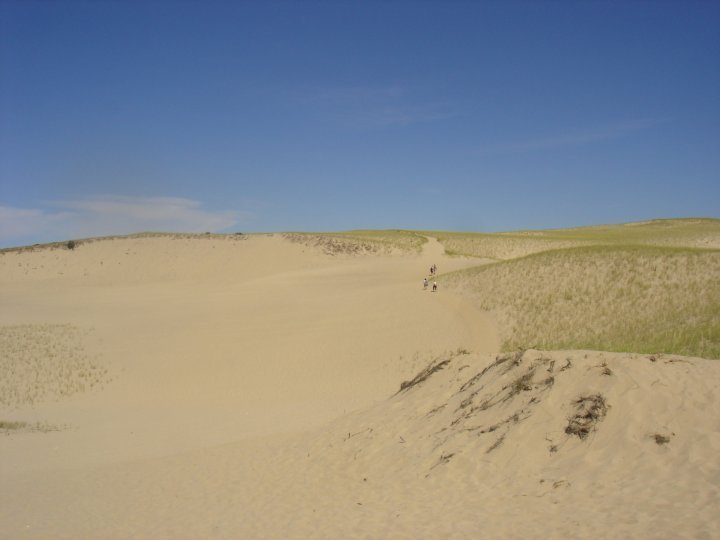 We could tell you exactly where this beach is, but then it would not remain hidden-correct?  So we are choosing to only share the location with  guests staying at one of our properties.  You will have to be in fairly good shape for this hike, its about a 40 minute trip one way.
The first picture below is at the start, this is your 200 foot jaunt on the sand path through the woods before you see the first dune.
Middle picture is the beach at then end of your hike, and the third picture is returning.
Departing from Hyannis, enjoy a ride in the dining car and be served a five course gourmet meal, with music and soft candlelight accented by  the steady rhythm of the engines.  See Marshes, Cranberry Bog, Dunes and other places accessibly only by rail.  We have done this trip and it was great-felt like we were going back in time. The rider in the video is absolutely correct, I liked the sounds also, the steady chug chug chug, the whistle, etc
Visit their website, button below and click on photos-they have some great pictures.  I did not see the mystery train rides on their site, but they do ave   a Luncheon train ride, an Easter Brunch ride, and a Mother's Day Brunch ride.  The  Railroad is a seasonal business, so check the website for actual dates, schedules and events.
Bookmark us before you go.
In this video Ship wreck hunter Barry Clifford answers your questions about Pirate Ship he found, "The Whydah" an infamous pirate ship, formerly a slave trade ship that was captured.   They are still pulling up treasure from this ship.   National Geographic hosted this exhibition of pirate treasure-this is the real deal folks.   This is an exhibit that adults and kids of all ages will enjoy.  Jean and I have not had the chance to visit yet, but we have gotten reports from friends and guests. Not to be missed, particularly if you like history.  There are more than 3000 shipswrecks off the coast of Cape Cod.
The Whydah Pirate Museum is located in West Yarmouth a short two miles from our properties.  For those of you who know Cape Cod, the former Zooquarium site is now the home of the Pirate Museum.  Visit their website for hours, schedule and details.  Check the local Chamber of Commerce to see if there are coupons around (as they were last year).  We  will also check for you and keep you posted in our guide.
Bookmark us before you go to the website.
5. Taylor Bray Farm - Yarmouthport
Taylor Bray Farm in Yarmouthport is a place near and dear to Jean and I.  It a free fun farm owned by the Town of Yarmouth and operated by the Taylor Bray Farm Preservation Association (TBFPA) and many dedicated volunteers.  The farm has two Nubian goats Rusty and Dusty, a very sociable and interesting pair.  There's Orville the resident rooster who can always be heard crowing in the morning  and a lot of times during the day.  Orville protects his lady's the hens, so your likely to hear him crow when you are observing them.  After all he had to let you know who is Boss!The farm is also home to Patch – the farm's Ram.  He is the one who is (partly) responsible for the baby lambs that are born every Spring-usually about 5 or so.  His ladies are named Sandy, Betty, Priscilla and Patsy.
Sam and Nestor the Donkeys,  can be a little bit mischievous.
A great time to visit the farm is in June when they hold there annual fundraiser-the Sheep Festival.  Great Fun, Food, Sheep Herding, Sheep Shearing. Silent Auction and a lot more.   If they are this years event, come see the "X-Grille" the former Oil truck which has been converted into a giant outdoor grille.  You just have to see it.  Check to see if they are sponsors this year.
The farm is a great place to visit at any time of year.  They have a boardwalk overlooking Black Flats Marsh – a great chance to see a Salt Marsh up close.  They have picnic tables, so pick up some pizza or subs at nearby Petersons Supermarket and enjoy your lunch at this scenic spot. (Peterson's keeps our animals supplied in produce).  Taylor Bray Farm also has hay rides, an outhouse, a blueberry patch, and a pumpkin patch within its 22 acres.  Many wedding have also taken place here. Contact the association for details.
In addition to the Spring Sheep Festival, the farm also has a fall festival-get your painted pumpkin here, and a Christmas Festival where you can get your Christmas tree, some decorations, holiday eat treats, or just enjoy some complimentary Hot Mulled cider and fresh baked donut holes. There is always something happening at the farm, check the website for major events.
Some pictures:   Blue Moon over the barn, Sam and Nestor the Donkeys, Rusty and Dusty the Goats, The Boardwalk, One of the Hens, and Fiona and Clohe the Scottish Highland Cows.
Pictured below are one of the sheep and baby lambs, and another picture of Fiona who I call "The Prettiest Girl on Cape Cod"
There is a lot more to the farm, visit the website and read about the history, watch videos on hearth cooking, and read about the archaeological digs that have taken place and see the finds.


Bookmark us before you go.
6. JFK Museum and Memorial
The JFK Museum is located about halfway down Main Street Hyannis, on the left.  Main Street is a one-way street over a mile long.  At the end is a rotary and you can come back on South Street also a one way street.  You will go by Francis Xavier Church the Kennedy Family worshipped there. 347 South Street. When you visit the Museum across the street is Pizza Barbone, great pizza and worth a stop in only to see the Italian Brick Wood Fired Dome Oven and enjoy a cup of gourmet coffee.
Further down South Street and then to 480 Ocean Street is the Kennedy Memorial, Veterans Memorial Park and Veterans Park Beach.  You will see the boats at Hyannis Yacht Club also.
Jean and I live here, and like most of you we have busy hectic lives-and budgets are taken into account so we like to do what we call "A Vacation in a Day"  and now you can also. The Islands of Martha's Vineyard and Nantucket are picturesque and quaint.  The food is exceptional.  You can only get there by boat-a chance to get out on the water and see Nantucket Sound.
So this is what you do:  Get up early.  Drive 2 miles to Hyannis and the Ocean Street Docks where the Ferries leave from. You will have to pay for parking.
Take the slow boat to Nantucket, its about half the cost and you get to enjoy a relaxed 2 hour boat ride.  If you would rather spend more time at the islands, take the high speed ferry, about an hour. But what's the rush?  Once you get there, take a walk around, lots of shopping,  cobblestone streets, and find a place for cocktails or lunch preferably on the water, not hard to find.  You can't got wrong, food has always been top shelf. 
You can also rent Mopeds, but be careful-soft shoulder road accidents.  Take a tour by Van, they will show you the sights, and we have not been in awhile but guests have told us there is a bus system.  We prefer to just take the boat ride, enjoy a fantastic lunch, and window shop or actually shop, and then return.   A Vacation in a Day.  There are two main ferry companies.  We will give you the links here.
Bookmark us before you go.
8. Its all about the Seafood
We are surrounded by water on three sides, and there is a lot of fish in those waters.  Cape Cod got its name because of the abundance of Cod the Pilgrims found in the Bay.  Thick as Thieves.  You need not go to a restaurant or a fishing trip to enjoy the seafood.  Simply drive down to our favorite Fish Market a mere 2 miles from our properties.  You can buy Lobsters and Steamers as well, or if you wish they will cook your lobsters for you.
It's Cape Cod!  We are surrounded by water.  Cape Cod got its name from the Pilgrims because the Cod Fish in the waters was as thick as thieves. This is the place to get good seafood. There are a  lot ofgood restaurants. On our home page (CapeCodFunList)  we have listed some of the more popular spots.  Click the Button (Restaurants)  for 3 more choices – see below.  The Riverway, The Marshside, and Fin Cape Cod.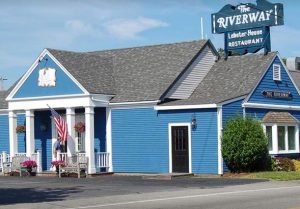 3 Miles from our properties near the Bass River Bridge. Tablecloths, Great Service, Specials.
Pretty much every seat has a view of the Marsh since they renovated.  Lots of windows.
Chef Martha Kane, an Artist who happens to work with food. Order Seafood.
On Cape Cod you will have hundreds if not a thousand choices of places to eat, breakfast lunch and dinner, and many of them are excellent.  We have listed our favorites, but chefs can change and we can only eat out so often.  Give us feedback.  At any rate Bon Appetit
9. Cape Cod Inflatable Park
Less than a mile from our properties, and across the stree from Luke's Liquors, this attraction was a huge success last year and now they are in the middle of a 35,000 square foot expansion.   They will have a lazy river and much more.  Looks like they spent some serious money.
This video is probably before the expansion.  We haven't been but I just told the wife, I am going down that slide, and I am FAR from kid-age.  Big kid. LOL
Bookmark before you go, so you can find us again.
10. You've Got Sand In Your Shoes-Get Back to the Cape
When you come to Cape Cod you will get sand in your shoes and that sand will keep calling you back again and again.
Pops by the Sea***Fireworks***Provinceton Carnival Parade***Wellfleet Oyster***Festival***Lollapalooza***TaylorBrayFarm Sheep Festival***Cape Cod Melody Tent***Cape Cod Playhouse***Sandwich Glass Museum***Cape Cod Rail Trail***Boat Tours*****Fishing***Charters***Golf***Walking Trails and Hiking***Sailing***Running and Roadraces***Clambakes and Barbecues***Scuba Diving***Horseback Riding***Lighthouses***Baseball***The Last Drive in Theater***Get  Back to Your Cape Cod
Visit YourCapeCodGuide -click the button for our blog.
If you have any questions regarding the area, the property or availability please drop us a line
We are here to help